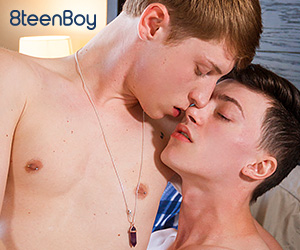 Check out our exclusive interview with cute twink Tristen Adler
How did you choose your name?
I literally sat down and looked up a whole bunch of male first names and German last names, then kept jotting all the ones I liked. After that I sat down with Max Carter and mashed first and last names until we found something that sounds good.
Why did you decide to do porn?
It more or less fell into my lap by accident. It was something I never ever considered doing but when it got thrown onto my lap I told myself "sometimes you have to make jumps in life and I think this is one of them."
Is it more or less enjoyable than regular sex?
It really depends who you're working with, because in scenarios where you're so vulnerable (naked in front of a few other people while needing to maintain an erection) you really feel the vibe of the people around you. So if they're unhappy, you really feel it and it can affect your performance a LOT. I'd say for the most part filming is pretty enjoyable. I've had a lot of shoots where we just can't stop laughing because I'm just always cracking jokes.
Are you also dating? Is it more difficult because of stigma?
As of July, I've been talking to a guy. It's not 100% there yet but I still refer to him as my boyfriend to make it easier and it makes it so I don't have to explain it. He's really sweet and works as a flight attendant so even though he loves across the country he's seen me like 8 times in the last two months. Is it hard to date while doing porn? Yes. Yes. Yes. There are a lot of things that make it hard. For starters, you have to find someone you're into that's okay with you sleeping around a whole lot. Then, not only that, they have to not be someone that glorifies you as some "mega-star" and just as a regular person. They also have to be okay with not having sex often (this depends from model to model) but like if I'm filming it just drains my libido by the time I'm done and makes me the least horny person I know.
What do you do to work out?
I find myself at the gym multiple times a week doing heavy weight training, supplement taking, and bulk eating. I just follow a three day routine of Tris/Chest/Legs, Bis/Back/Abs, then a rest day. I'll go for a lil over an hour a day. I'll even go in between nights of filming.
What part of your body do you think is the most appealing?
I got told it's my eyes. They're like all these different colors and they really draw attention. They're something I'm proud of that I didn't even have to work for.
What is your favourite position?
I like topping in doggy a lot. Bottoming, anything except for riding... Probably pile-driving is my favorite other than the fact it scrapes my shoulders to high hell since usually the surfaces to do that position on aren't the best.
How do you prepare for a scene?
There is a lot. It's really something you have to prepare both mentally and physically for. I am always going to the gym, doing meditational thinking, and really just making sure I am 100% ready to be as vulnerable as I am when filming.
Do you have a favourite type of guy to partner with for scenes?
This one is simple: Guys with baby-faces and bright personalities.
Do you have any hidden talents or hobbies?
If you follow me, you'd probably be 100% aware that I'm a tech/gamer fanatic by now. If you didn't know already it's probably because you aren't following me. I'm always talking about my computer setup, gaming, and all of the cool tech I'm always installing in my room.